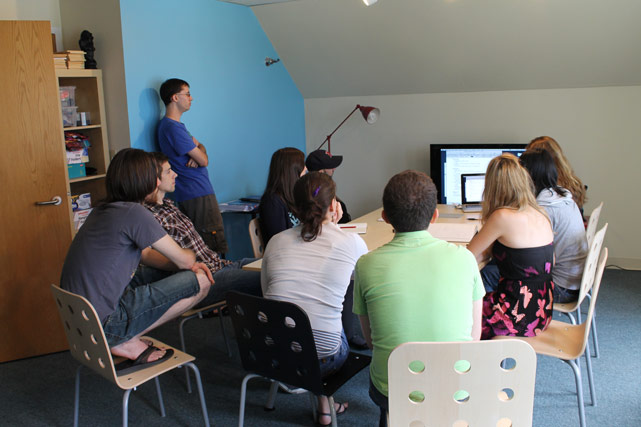 Now that you've had a chance to play the game, want to know how little Nimbus came to be? Well, when two rainclouds love each other very much…
Kidding! It all started back in August of 2011, when the gang at CloudKid gathered for our first "Game Jam" (a day that we take off from regular work with the focus of creating one or many games). Since we put absolutely no parameters on what we would be creating that day, we had no clue what would result. After a morning chock-full of brainstorming sessions (as pictured above), we landed on an idea that we all felt had some promise: a game starring a sad rain cloud who doesn't want to rain on anyone.
Over a year later, we've been through a lot with our lovable little Nimbus. While our game jam really just resulted in an idea, a rough prototype and some concept sketches and design explorations (pictures of which after the break), it helped plant the seed for a game that we were all excited to work on.  Since the initial game jam, we've continued to grow this project from a rough idea into an app that we were all extremely proud to release last week. Continue to check back here for more details on Nimbus' growth to the cloud we all know and love! We may even show a baby picture or two!